BALKANS AND MYCOTOXINS 2017
High levels of Aflatoxin B1 and Fumonisin B1 & B2 mycotoxins detected in corn samples in 2017!
The aim of the present study was to screen corn samples received from Balkans region during August to November 2017. The samples were analysed by UHPLC-based multi-mycotoxin method for the determination and quantitation of all regulated in feed (EU Directive 2002/32/EC, 2006/576/EC and 2013/165/EU) by liquid chromatography coupled with tandem mass spectrometry.
A total of 113 samples were received for analysis at PATENT CO., Mišicevo, Serbia. Out of these 53 % samples were found contaminated with mycotoxins and 28% of these contaminated samples were found to contain more than one mycotoxins. Aflatoxin B1 (AB1), Fumonisin B1 (FB1), Fumonisin B2 (FB2) and HT-2 were detected in 13%, 44%, 24% and 8% samples. This survey concludes that the corn harvested in 2017 has high levels of Aflatoxin B1, Fumonisin B1, Fumonisin B2 in Balkans region.
Adsorption and desorption of Citrinin by MINAZEL PLUS
Citrinin is a nephrotoxic mycotoxin produced by several fungal strains belonging to the genera Penicillium, Aspergillus and Monascus. It contaminates various commodities of plant origin, cereals, and is usually found together with another nephrotoxic mycotoxin, Ochratoxin A. Toxicity concerns for Citrinin mostly appear to be aimed toward poultry affecting kidney of these species.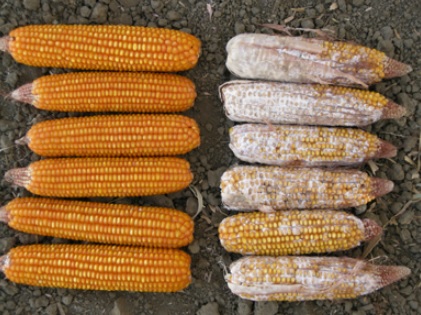 Adsorption and desorption of Citrinin by MINAZEL PLUS at pH 3.0 and 6.5 using LC-MS/MS: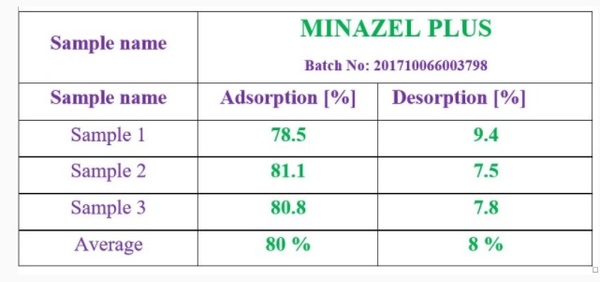 Source=https://en.engormix.com/MA-mycotoxins/news/mycotoxins-survey-2017-patent-t23860/p0.htm?utm_source=campaign&utm_medium=email&utm_campaign=0-1-0
18 December, 2017
https://sfoodfeedf.org/wp-content/uploads/2015/01/sfff-logo1.png
0
0
sfoodfee
https://sfoodfeedf.org/wp-content/uploads/2015/01/sfff-logo1.png
sfoodfee
2017-12-18 10:49:29
2017-12-18 10:49:29
BALKANS AND MYCOTOXINS 2017